Are you still using plastic, physical debit cards? It's becoming more and more popular, especially for small businesses to rather use virtual debit cards. Besides being more environmentally friendly and faster to activate, they allow small businesses to take care of all their financial needs from one convenient platform. Virtual debit cards also save you from the hassle of having to carry around multiple plastic credit cards or debit cards and from overspending on your corporate credit cards. Virtual debit cards are quickly becoming the new standard for small businesses, so if you aren't using them yet, you should be convinced to switch over by the end of this blog post.
💡
Virtual debit cards have the added benefit of being able to provide businesses with increased security and control over their spending. A tip for using them effectively is to set spending limits and regularly monitor all your transactions.
It has been reported by McKinsey that mobile banking channels have increased by 20-50% during the COVID-19 pandemic, and they look to be on a trajectory to dominate the industry from here on out.
In another McKinsey study, it was established that consumers demand a more flexible digital finance journey. Almost 71% of consumers prefer multi channel interactions, and 25% want fully digitalized private finance experiences with remote human support. This demonstrates that digital-first service providers and neobanks are better suited to responding to today's consumer expectations.
Creating virtual debit cards is pretty straightforward and can be done entirely online. This blog will give you all the details of what exactly a virtual debit card is, how to set one up, how to use it and how a virtual debit card can benefit your business.
What is a virtual debit card?
A virtual debit card is a digitally created payment card that isn't linked to a traditional plastic credit or debit card. Virtual debit cards are issued by financial institutions like traditional institutions or neobanks and other online payment service providers.
Virtual debit cards work similarly to traditional physical debit cards and allow you to make online and mobile payments and also withdraw cash from ATMs. They are linked to a specific financial account or prepaid account, and funds are deducted directly from that account when you make a purchase or transaction.
A virtual debit card has details including card number, expiry date and security code, that are either displayed electronically or shared with you via and app or secure online platform. Whenever you need to make a payment or transact, you will use this information.
Virtual card vs physical card

Virtual debit cards aren't linked to any specific financial account, whereas physical debit cards usually are. This means that you can use them to draw on funds from any participating financial institution. Typically, there's a small fee attached to using a virtual debit card compared to using an actual physical card, but this is usually worth it given all the benefits that come with having one. For example, you don't need to carry around multiple cards or worry about lost or stolen credit or debit cards - everything is handled through the virtual card software.
Physical cards do not represent your virtual debit cards, meaning they're not a digital version of one of your physical cards. They are entirely different and have their own CVV, card number and expiration date. They can be stored in your phone wallet and used anywhere in the world. Awesome, right? Here are some more advantages:
Your virtual debit card is linked to your financial account so you can easily draw money from it.
You don't need a physical card for everyday use – just the virtual card software on your computer or mobile device.
Your transactions are immediately processed and available for viewing in your account history. This means less time spent going through lengthy bank statements!
You can easily set limits on your card which can save you from overspending.
How to create a virtual debit card for your business
It is pretty easy and quick to create a virtual debit card for your business online. Here are some steps to follow:
Firstly, you'll need to sign up for an account with an authorised financial institution that offers digital cards.
Create a new account via the website of the institution you've chosen. You will usually find this on their website listed under "Personal" or "Business."
Follow the instructions to create your account. You will most probably need a few sets of documents to prove your legitimacy.
Log in once you've created your account and look for the section on creating a new virtual debit card.
After you have your account and have created your virtual debit card, all you need to do is load funds onto the card and then you can use it for transactions at participating merchants. You can withdraw money, make purchases, and pay bills using your virtual card.
This can be done through traditional banks like HSBC, ING Direct or Citibank or financial service providers like wamo, Revolut or N26. At the end of this blog post we'll share further details on how to create a virtual debit card using wamo.

What are the benefits and downfalls of getting your virtual debit card from traditional institutions?

So long as you have all the necessary documents, getting your virtual debit card is pretty straightforward and can be done easily. Generally speaking though, traditional institutions have more stringent and lengthy processes than neobanks and alternative financial institutions.
When going the traditional route, you'll first need to have a physical debit or credit card. If you don't have either of these you won't be able to get a virtual debit card.
Traditional entities are likely to ask for the following documents and details when you wish to create a virtual debit card:
Your passport
A copy of a utility bill or other official document with your name and address
Your bank account number
Once you've decided you want a virtual debit card for your business, there are a few steps you can take to register and start using your new virtual debit card.
Research which bank or financial service provider you want to use. There are many different banks like Barclays, HSBC, and Santander and financial service providers that offer virtual debit cards, so it's important to do your research and find one that fits your needs. Perhaps you want to work with someone you've used before, or alternatively, you might have heard great things and read reviews of a neobank or other financial institution.
Go to the website of the institution or provider that you've decided is the right fit for you. Find the section on their website where you can create a new account. This is usually under "Personal" or "Business."
Follow the instructions to create your account. They'll probably ask you for some personal information including your name, address and date of birth. You might need to submit accompanying documentation to verify your identity.
Once you have created your account, log in and go to the section where you can create a new virtual debit card.
Once you have created your virtual debit card, you will be able to use it right away. You can use it to make online purchases, pay bills, or even get cash from an ATM.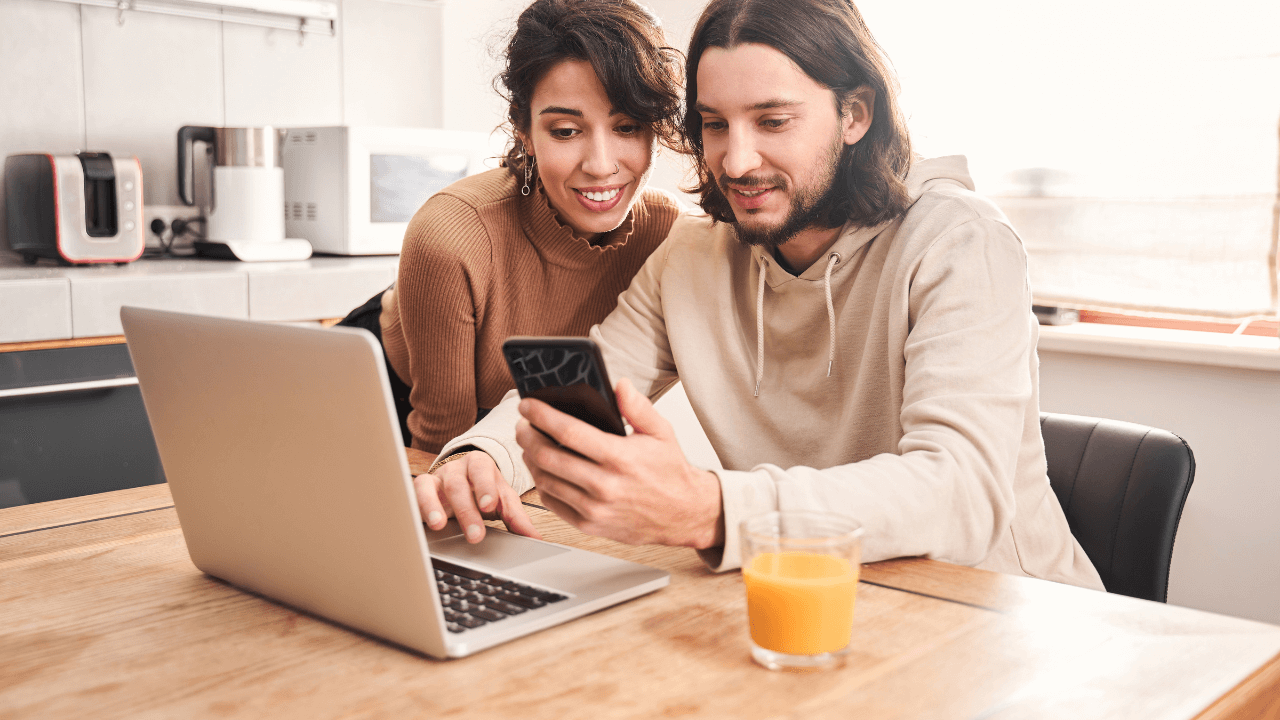 Traditional institutions vs financial serive provider: Which one to choose?
Traditional institutions and financial service providers both aim to provide seamless financial services to small businesses and individuals. However, that is probably where their similarities end.
Traditional institutions have generally been around much longer and are more established in the countries they function in. However, traditional options often fall behind when it comes to innovation and technology. Consumers seldom choose to use these options but merely continue to use them because that is what they know and feel safe with. On the other hand, newer and more innovative companies might have a small share of the market, but often attract consumers because of their competitive prices, quick turnaround time, cost-effective solutions and innovation in the digital finance realm.
When deciding between a traditional institution and other financial service providers, it will be a useful exercise to investigate all offerings from both options. If you're looking for faster transactions, newer technology and less administrative hassles, it might very well be worth your while to switch your business account from a traditional institution to a neobank or other financial provider. Below we'll share more information on the benefits of using wamo for your small business.
How to get free instant virtual debit cards with wamo
wamo is a holistic financial management platform designed to support small to medium sized businesses and entrepreneurs with a goal to set up and run a business whether at home or across borders. wamo enables businesses that have struggled in the past to open a business account due to the stringent processes and long timelines of traditional institutions. We're here to make running your business easier and more efficient.
wamo has developed cutting-edge technology that makes it easy for you to get your virtual debit card up and running, as well as to withdraw money, make purchases and pay bills.
With wamo, you can register a business account in 10 minutes, complete your process within 24 hours and apply for your instant virtual debit card at zero cost. Additionally, you get access to multiple fee-free features and benefits that enable you to make international transactions, hold multiple currencies in multi-currency accounts, manage sub-accounts and run a smooth business internationally.
To get set up with wamo, download the wamo business app from Google Play or the App Store, submit your required documents, open a business account and get started with your virtual debit card right away! It's that easy.
At wamo, we strive for excellent, human-centred support. You'll always be able to interact with one of the wamo team members who will happily assist with everything, from setting up your account to troubleshooting wherever necessary.
Other benefits of getting a virtual debit card with wamo
You can get your virtual debit card quickly and easily with wamo and we also offer many other benefits, including the following:
No hidden fees: wamo doesn't charge any hidden fees. You will only be charged the stated transaction fee when you use your card.
High limits: wamo has high limits for card payments.
Easy renewals: If you lose your card, you can cancel it and get a new one quickly.
Easy tracking: Enables you to freeze or unfreeze, unblock or delete your card.
Be notified: Get notifications for all your activities if you wish.
As we can tell from this blog post, virtual debit cards are a convenient way to manage your finances and make online purchases. If you are planning to expand your business or simply want to ease your financial transactions, getting a virtual debit card is a good option.
Get started right now by getting a virtual debit card online with wamo.