The short answer to this question is, yes. If you are a non-resident – or if you have a non-resident company – Cyprus is one of the easier places to open a business bank account as a foreigner. But like anything in life, there are a few hurdles to jump over. There are a few options of how to open a business bank account in Cyprus and we're going to walk you through them in this blog post.
As you know, there is always the traditional bank option. If you're going the traditional bank route, the first thing to be aware of is the high fees that these banks typically charge. There will also likely be quite a lot of requisite paperwork you'll need to have ready. We'll go into more detail on the traditional bank route later in this article so that you can weigh up your options.
But bear in mind that with wamo's digital business account platform, opening a business account in Cyprus as a non-resident takes 10 minutes and there's not the hassle of endless paperwork, procedures and time spent waiting as we're able to approve legitimate business applications quickly and securely. More on that later, but for now let's look at opening a business bank account in Cyprus as a non-resident.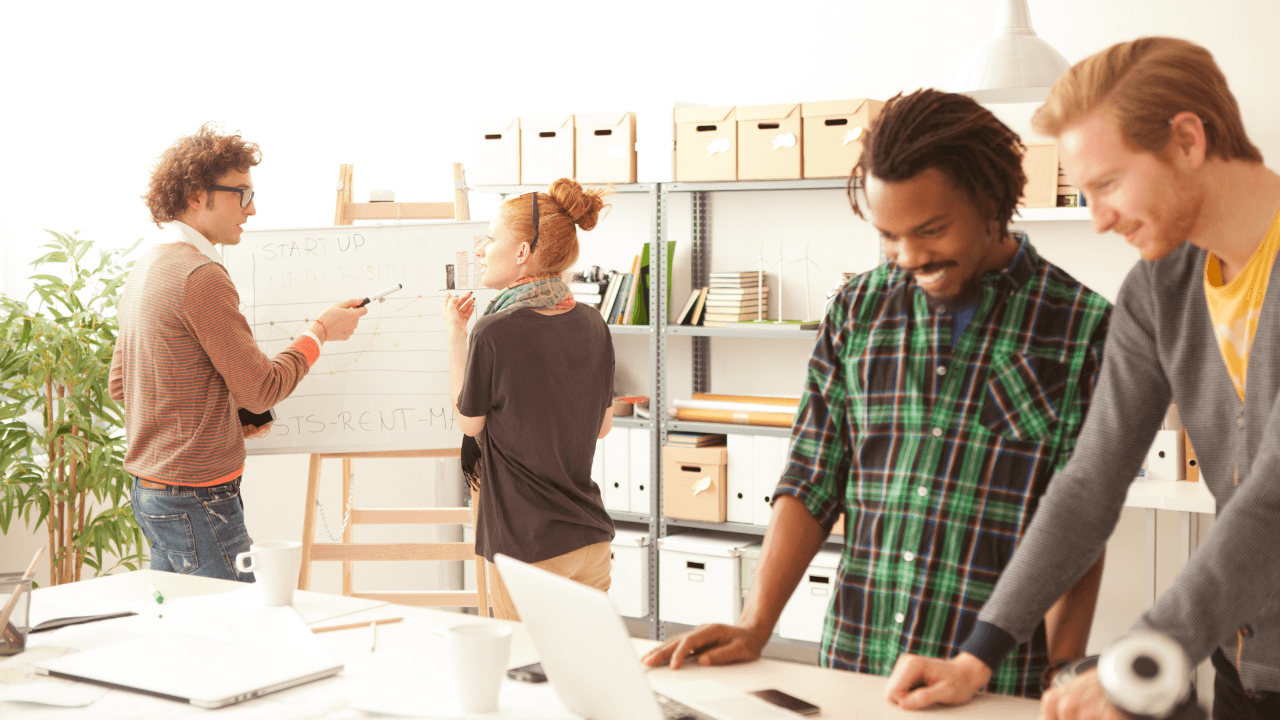 Can I open a business bank account in Cyprus for my company as a foreigner?
One of the third largest islands in the Mediterranean Sea, Cyprus has established itself as a benchmark offshore destination. The economy of Cyprus has been buoyed by tourism, financial services and game-changer opportunities led by the government of Cyprus.
With that, the country has further been enabling foreigners and entrepreneurs to expand or launch their businesses there without having to visit or stay in Cyprus. The simple answer is yes, you can run an international business in Cyprus from your home country! And the best thing about this process is that you can do it all online.
One initial step to start your offshore company is to open a business bank account which lets you convert currencies and conduct your international business transactions in a secure environment. Cyprus financial institutions are reputable and accessible, making it an ideal place to set up shop. They additionally allow you to open business accounts with them remotely.
Cypriot law is fully compliant with EU legislation, so your company is held accountable under the same standards as any other company operating within the block. But to qualify for business accounts, you need to fulfil some of the criteria of these financial institutions and get yourself ready for the regular processes of registering yourself as a company.
Let's look at the three main options to open a business bank account in Cyprus as a non-resident:
Option 1: Traditional Banks
If you already have a company or group of companies registered in Cyprus, or if you are planning on registering one in the near future, you can open an account with one of the traditional banks in Cyprus. These include the Bank of Cyprus, Laiki Bank and Hellenic Bank.
Option 2: Offshore Company
If you do not have a company registered in Cyprus, but want to use the country as your base for business operations and financial transactions, then setting up an offshore company is usually the best option. This can be done through any number of local companies which offer this service.
Option 3: Digital Business Account
Digital business accounts in Cyprus are banking solutions that operate primarily online. They offer convenience, accessibility, and cost-effectiveness for businesses. With these accounts, businesses can manage their finances, make transactions, and access financial information anytime and anywhere with an internet connection. Digital business accounts often provide features like multi-currency capabilities, online invoicing, and real-time transaction tracking. It's important to consider regulatory compliance and the reliability of the digital banking provider before choosing a digital account in Cyprus.
wamo is a digital platform that makes it easy to open and manage your business account in Cyprus. We offer you all the benefits of traditional banking, but without the paperwork, bureaucracy or high fees. We'll share all the details you need to get started at the end of this blog post.
Advantages of a business account in Cyprus
While it is not necessary to open a business account for your offshore company in Cyprus, there are many benefits associated with an account that can make you more confident to run a business. Some of the many are:
Secure environment – Thanks to the country's compliance with EU regulations, your company is held accountable under the same standards as any other company operating within the block. This makes it an ideal place to make business transactions in a safe and secure manner.
Ease in financial transactions – The country's reliance on electronic transactions has the ability to make your business dealings in Cyprus a breeze. You can easily run a business with other local and international businesses if you have the accessibility to local financial services.
Effective currency conversions – Having a business account enables you to convert any currency in your home currency. Without a business account, you will be bearing heavy conversion fees and international transfer fees which can often affect your business profits in the long run.
No double taxation – Cyprus has signed Double Taxation Treaties (DTAs) with more than 25 countries. That means, there are no taxes on imports and exports. A few countries are the U.S, U.K, Norway, France and Germany to name a few.
Note that, it is recommended to get a business account at the time of incorporation of your company. By completing the core tasks first, you'll be in a better position to handle your finances with ease in the future.
If you're still not convinced that Cyprus is a great place for you to open a business bank account, we've outlined some pros and cons in the table below to help you with some of your business decisions.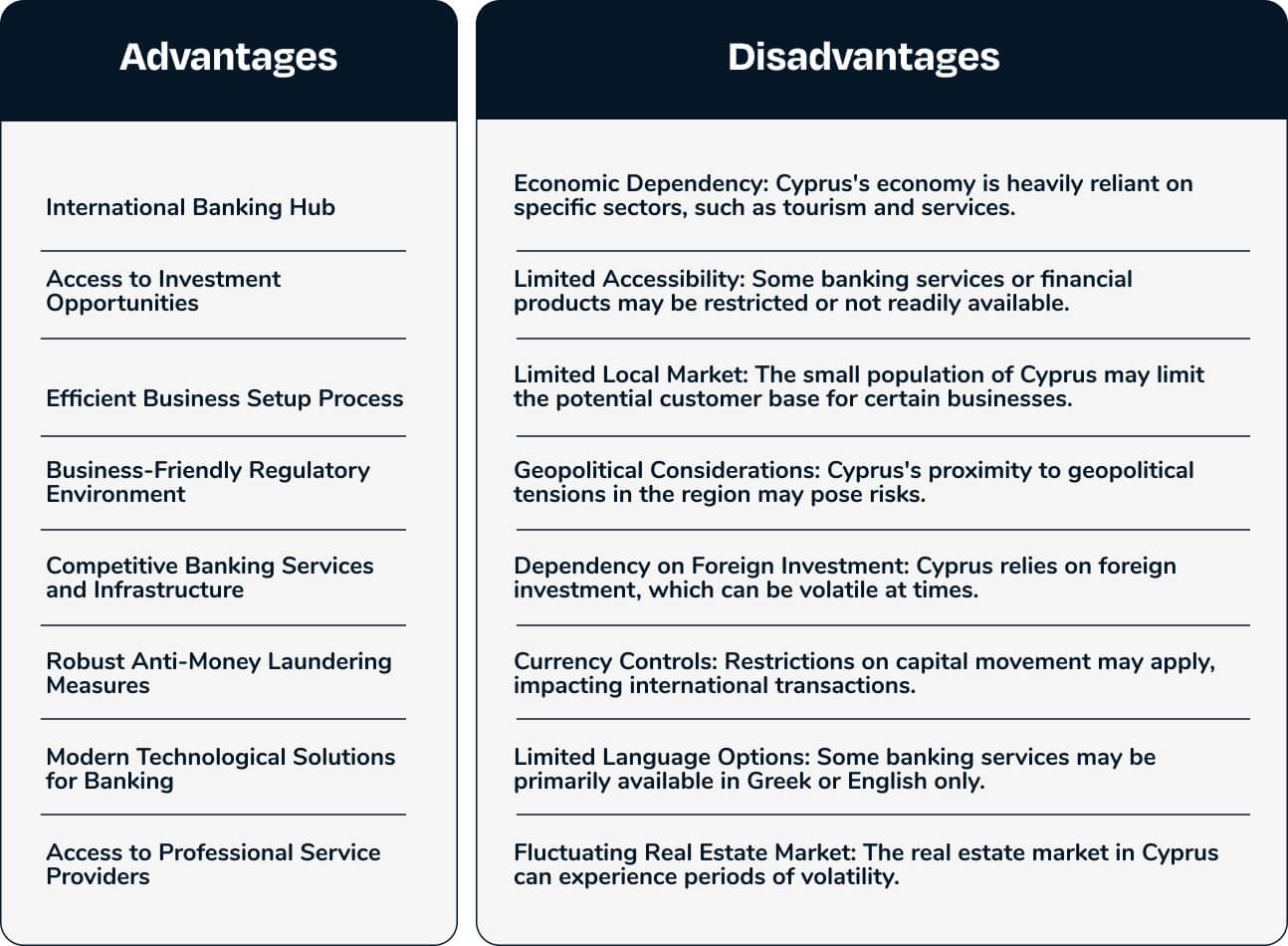 Open a business account in Cyprus
Opening a business account in Cyprus is pretty straightforward. There are multiple banks and financial institutions that you can approach to open your account. This can be done either remotely or in-person. Some of the popular banks in Cyprus are:
It is important to note that popular banks sometimes get stringent with their requirements or might take more than the usual time to process your application. As a foreigner looking to open a business account in a popular bank of Cyprus, you ought to be prepared for some delays or rejections.

Read about these banks and their procedures in detail. But that does not mean you cannot open a business account. There are multiple options which make your process easier and faster.
You can open an account with a small bank. This is the best option if you do not intend to keep a lot of money in your account and simply need basic banking facilities such as making loans, transferring funds, etc. These banks are usually more flexible and will accept applications from foreigners without difficulty.
You can also open an account with financial institutions like wamo. As a holistic financial management platform, wamo provides technologically advanced financial services that meet the requirements of the fast-paced business in Cyprus.
Specifically established as a fintech solution for small and mid-sized businesses, we at wamo provide a vast range of financial services and a customer service team that value your business as highly as you do, with the ability to help you see where your business can go and how it can get there.
What are the steps to opening a business bank account as a foreigner?
While you don't need to have residency to open a business account in Cyprus, you will need to provide a local Cypriot bank with the following:
Passport or valid identity card
A reference from the bank in your home country
Proof of address
Anticipated turnovers
Information on why you need the account
Company incorporation documents
All documentation by company shareholders.
If you're interested in an easier and faster option than using a traditional bank, wamo has some great options for you…
What's the easiest way to open a business account in Cyprus as a non-resident?
The option of using digital banking solutions, rather than traditional brick and mortar banks, makes it possible to open a business account in Cyprus without being a resident of Cyprus, easily. This is where wamo comes in. With wamo, you can open a business account in just 10 minutes. wamo lets you manage all your finances from one place, effortlessly. Using our smart mobile application, you can control and streamline all your expenses, create as many sub-accounts as you want, and easily issue yourself limitless virtual debit cards. All transactions are fast and secure and at all times you get the best customer service around (never a robot, wamo team members only!). And, importantly, our fees are low, transparent and the same for residents and non-residents alike.
💡
You can open a business account in Cyprus with wamo online in just 10 minutes without going to Cyprus.
Open a business account in 10 minutes with wamo
Yes, you read right – you can have a full business account up and running in 10 minutes and can start taking payments instantly. Registering is easy, all you need is your ID and your company details – to approve your application we can do all the rest. There are no extra documents required. We know that opening a traditional business bank account as a non-resident can be tricky, painful and exhausting so we're here to take the hassle out of getting your business dreams off the ground. You probably suspected that there was an easier way and we're pleased to tell you that there is – this is it.