Are you considering setting up a business in Italy? We can definitely understand why – it is one of the most advantageous countries in the world in terms of ease of doing business and there are many pros of opening a business  in Italy. Many investors are drawn to establishing companies in Italy because of its convenient, central geographical location in Europe, its temperate climate, the stable political situation of the country, as well as its strong economy and workforce. If you're looking to expand your business into Europe from outside the EU, we recommend considering Italy as a great place to establish a company.
What are the advantages of setting up your business in Italy?
Besides the impeccable fashion and food Italy is so well known for, it is also a great place to establish a company and start doing business from. Here are some if the advantages of opening your company in Italy:
Logistics: international logistics are relatively easy and inexpensive when working from Italy
Investing: the investment culture in Italy is well developed and the tendency to invest is high
Market investments: there is a strong potential for market investments across Italy
Technology and innovation: these areas are important and fast-growing in Italy
Location: Italy has an ideal and central geographic location and is easily accessible to most Europeans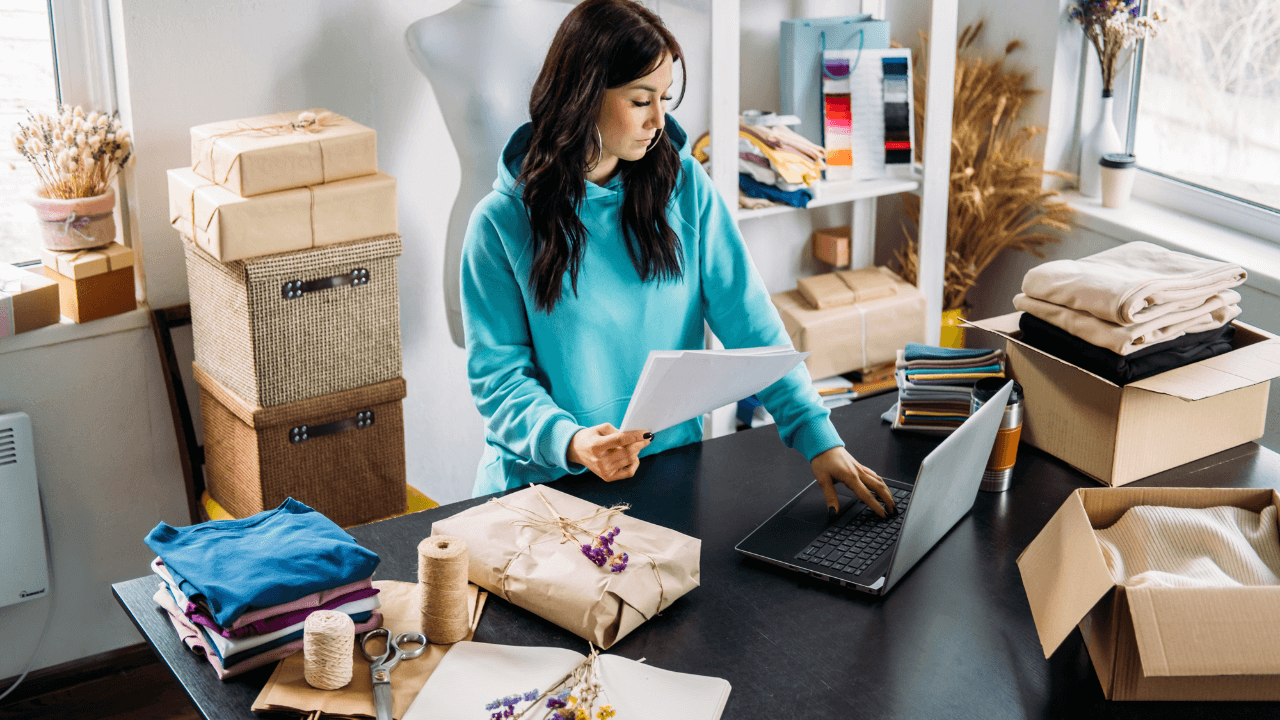 How to open a business in Italy
Now that you've decided to open a company in Italy, it's time to figure out exactly how to do that. What do you need to prepare and have ready? Let's take a closer look at everything you'll need to get you started on this adventure.
Firstly, you'll have to get an Italian tax number in order to establish your company in Italy. To get an Italian tax number for your business, you need to follow a few steps. Here's a general overview of the process:
Determine the appropriate tax number: The type of tax number you need depends on the legal structure of your business. For example, if you're starting a sole proprietorship, you'll need a codice fiscale (personal tax number) for yourself, whereas a legal entity like a company will require a partita IVA (VAT number).
Register your business: Before applying for a tax number, you'll typically need to register your business with the appropriate authorities. The process and requirements may vary based on the type of business and the region where you plan to operate. In general, you'll need to gather necessary documents such as identification, proof of residence, and any relevant business documentation.
Submit an application: Once you've completed the registration process, you can apply for a tax number. You'll need to fill out the appropriate application form, which can usually be obtained from the local tax office (Agenzia delle Entrate) or downloaded from their website.
Provide supporting documents: Along with the application form, you'll need to submit supporting documents such as identification (passport or ID card), proof of business registration, and any other required documentation specific to your business type.
Submit the application: Deliver the completed application form and supporting documents to the local tax office (Agenzia delle Entrate) responsible for your area. You may need to make an appointment or follow specific procedures, so it's advisable to check the requirements beforehand.
Await confirmation: After submitting your application, you'll need to wait for the tax office to process your request. This can take some time, so it's essential to be patient. Once approved, you'll receive your tax number.
It's worth noting that Italian bureaucracy can be complex, and the process may vary depending on various factors. It is recommended to consult with a local accountant, tax advisor, or legal professional who can provide personalised guidance based on your specific circumstances and location in Italy. They can ensure that you complete all the necessary steps accurately and efficiently.
You will also need a physical address in Italy to list as your company address. However, if you do not want to rent an office in Italy initially (or at all) when establishing a company, you can look into getting a virtual office space. There are companies that can provide this service to you, meaning you'll be able to open your company without renting actual physical space. You can start by looking online for virtual office service providers in Italy. There are several companies that offer virtual office solutions, such as Regus, Servcorp, and Davinci Virtual.
Once you establish a new company in Italy, you'll need to have it registered in the trade registry within 30 days after the establishment process is completed. This registration, which is mandatory when establishing a company in Italy, takes on average 10–14 days to process.
Below is a list of requirements for opening a business in Italy. You will need to do the following in order to register your company:
Arrange your articles of association
Have your memorandum of association ready and available
Execute articles of association before a public notary
Obtain an Italian tax code
Register for VAT
File with the Registrar of Companies

How to open a business account in Italy
After you've registered your company in Italy and laid the initial foundations, you'll be ready to start making business transactions. You will need a business account to be able to do this. Of course it's possible to turn to traditional entities for this, but opening a business account with a regular option typically takes quite a bit of time and follows a rather stringent process.
Opening a business account in Italy can be a confusing process for many people, particularly if you don't speak the language. However, opening an Italian account is relatively simple and has many benefits if you know how to do it correctly. Let's take a closer look at how this process works.
Similarly to opening an account elsewhere, to open a business account in Italy, you'll likely need to provide the following:

- personal identification documents
- proof of address
- tax identification number
- business registration documents (if applicable)
- financial statements or a business plan (if opening a business account).
What about opening a business account in Italy?
You'll need some extra paperwork and details when you're opening a business account in Italy. Here is what will be required to get your business account up and running:
Your business name or P.IVA number
Your company registration number (codice fiscale) or C.F. (commercial register ID)
A tax identification number (P.IVA or C.F.)
The business account number of the company where you want to open an account, in Italy or abroad
The full name of the person opening the account and their date of birth (usually this is not required when opening an account online). If you don't have a fixed address in Italy yet, you can enter any temporary address that will be valid for about 6 months from your application date.
Once  you have all these details and documents ready, you'll need to take the following steps to open a business account in Italy:
Obtain your tax number and VAT registration
Contact the institution of your choice and ask them to send you an application form
Fill out the application form with all required information, including your company's details and financial goals
Submit documents proving that you have obtained both a tax number and VAT registration
Opening a business account
If you're not Italian, that shouldn't be a problem when opening a business account. Depending on the platform you choose, this should be a fairly smooth process. When opening a business account in Italy, you'll need to provide the following documentation:
passport
proof of your right to live in Italy (if applicable)
tax number (codice fiscale), which you can obtain from the ufficio delle entrate.
We're often inclined to use more traditional institutions as our first port of call when doing business – they've been around for a long time, they're familiar and everyone else seems to be satisfied with their services. But, if you're looking for a more efficient (and paperless) solution to getting a business account for your company in Italy, there are alternative financial service platforms you can turn to. Below we'll share more details on how we as wamo might be the perfect fit for you.
Make it a bit easier: open a business account in Italy with wamo
At wamo we don't believe in making things harder than they need to be, quite the opposite! While opening a business account with a traditional entities can take more time and money than you want to spend – opening an account with wamo is fast and easy and you can do it online from anywhere.
As a financial management service provider and a payments platform in one, wamo is much more than an app and operates differently to the traditional institutions you know.  Our features and services are designed specifically for small businesses and entrepreneurs to meet their specific needs and to provide human-centred support at every step of the way! We are really big on great, personal customer service.
To open a business account with wamo, download wamo Business from Google Play or the App Store. You can also open an account from the website. wamo can be used from your smartphone via the app or from your desktop via the webapp, whatever works best for you.
To register you'll be taken through a series of simple steps where you'll need to share some basic information about you and your business. We'll need to verify your identity – for everyone's security – by asking you to scan your ID and record a very short video. Don't worry, we won't be running any credit checks or using your data for anything other than verifying that you are who you say you are. Security is our top priority.

The last thing you'll do is choose your subscription plan. It's important that you think about what plan will best suit your business. If you have a big team, for example, having free virtual and physical debit cards as and when you need them makes it worth opting for the higher monthly subscription amount, easily covering this cost every time.
If you have the right documents ready (see below) you'll be able to whizz through the registration process in under 10 minutes (we've timed it!). We'll get back to you within 24 hours and, if everything is in order, you'll have a fully-functioning account ready for business immediately. You can then:
Order wamo Visa debit cards - get up to 10 for you and your team and more on request.
Instantly create and use virtual debit cards
Open multiple sub-accounts with either EUR or GBP IBANs
Take advantage of wamo Rewards perks and special offers
And so much more!
💡
With wamo, businesses can enjoy additional benefits such as multi-currency accounts, virtual and physical cards, easy integration with accounting software, and real-time transaction monitoring, making it a comprehensive and efficient solution for managing their financial needs.
What documents do I need to open a business account with wamo
Depending on where you're located and the type of business you run, the requirements for opening an account might vary a bit. But, in general, you'll need to provide the following documents to open a business account with wamo:
Necessary Documents
Memorandum and Articles of Association (M&A)
Proof of shareholder structure
Proof of company address
Not necessary, but could be required at a later stage
Registry extracts
Certificate of Incorporation (COI)

Now that you've read up on the ins and outs of how to set up a business in Italy, we hope that you're feeling confident to take the next step. You should also have a clearer idea how quickly and easily you can open a business account using wamo – you can be doing business in Italy faster than you thought!